Ledlenser P17R Core
The P17R Core is an extremely reliable and bright flashlight.
The P17R Core is an extremely reliable and bright flashlight. It is ergonomically-friendly and can be easily operated with the Fast Action Switch. The patented Advanced Focus System provides a continuous transition from a broad flood beam to a sharply focused long-distance beam. The energy for this extremely durable flashlight is provided by a rechargeable Safety Ytrion Cell, one of the safest and most durable rechargeable battery cells in the world.
Special Information
Light Functions

Power - high light output for every situation
Mid Power - medium light output for every situation
Low Power - economical light for long battery life, glare-free reading and working
Boost - short-duration maximum power for more brightness
Blink - automatic emission of light impulses at regular intervals
Position - two short pulses of light, repeated three times, to alert others of your location
S.O.S - the distress signal the light emits is SOS in Morse code (3 x short, 3 x long, 3 x short)
Strobe - flashes of light with a confusing blinding effect for, among other things, self-defense

Switches

Front Switch - a switch on the front of the torch so you can use one hand

Special functions

Advanced Focus System (AFS) - for efficient, precise flood and spot lighting
Smart Light Technology - for custom light functions
Constant Light - for constant luminous flux over a long period of time
Convenient Charging - of the battery with Magnetic Charge System

IP-Class

IP54- Protection against water projected in powerful spray

Rechargeable

By using rechargeable batteries, you're not just protecting your wallet, but also the environment. Regular batteries, after all, require up to 500 times more electricity to produce than they can release themselves. Combined with the energy consumption for transport and storage, the CO2 emissions are huge.

Core Series

For home and life. Designed for a wide range of applications for everyday or on the job use. Equipped with Ledlenser's latest technologies and great functionality, the Core Series gives people the opportunity to experience the best parts of our lighting products in everyday life.
Max Lumens
1200 lm
1400 lm
500 lm
450 lm
900 lm
200 lm
120 lm
270 lm
Max Distance
1837 ft
984 ft
820 ft
984 ft
787 ft
295 ft
213 ft
-
Max Runtime
200 h
90 h
25 h
25 h
95 h
25 h
5 h
110 h
Rechargeable
Yes
Yes
Yes
No
Yes
Yes
Yes
Yes
IP Class
IP54
IP68
IP68
IP54
IP68
IP54
IP54
IP54
Weight
25.2 oz
7.1 oz
3.7 oz
6.2 oz
6.0 oz
1.9 oz
1.3 oz
-
CRI
65
70
70
70
65
70
70
80
Price
$249.95
$129.95
$79.95
$49.95
$99.95
$49.95
$39.95
$99.95
Technical Details
Ledlenser P17R Core
LED
LED Configuration

1 x Xtreme LED

Luminosity1

MAX 1200 lm - MIN 15 lm

Lighting Range1

MAX 560 m - MIN 50 m

Battery Duration1

MAX 200 h - MIN 2.75 h

CRI

65

Color Temperature

6500
Battery and Casing
Battery

1 x LiFeP04 6.4V

Battery Capacity2

5000 mAh

Water Resistance

IP54

Rechargeable

Yes
Height and Weight
Length (defocused)

290 mm

Head Diameter

53 mm

Weight

715 g
Customer Reviews
Write a Review
Ask a Question
09/08/2021
Allen M. Mayhew

United States
Superior
I'm very pleased and impressed with Ledlenser flashlight. I really can't believe how far the beam of light travels. I didn't believe the YouTube video that I viewed for this product. I'm a believer now. WTG Ledlenser‼️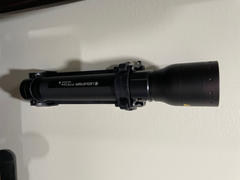 11/07/2020
Richard K.

United States
Quality at a great price
I now have three Ledlenser lights and I am very impressed with the quality workmanship and ease of use. I highly recommend, especially if you need to switch between spot and flood lights, they have no equal in that area.